I've been eyeing this pattern for a while. Since it was available for download on Etsy now, I decided to try the blouse. As of the making of the Pavlova blouse, the matching skirt was not available for download. It's overall fairly easy to sew. There's only two things about the pattern that calls for some extra attention.
1. On the PDF version, some of the sizing lines were difficult to discern. (Please be very careful!)
2. The second is a technique that helps stabilize the wrap, and calls for some interfacing. No biggie, but certainly something I have never done before.
I have noticed that I'm always wrapping tops to the right, and most patterns fold over on the left. I do this all the time with patterns!
This knit fabric was a Red Tag remnant. I think I paid a few dollars for it. The print looked a little funky on the bolt, but I think the colors are super cute. Don't you? This was my muslin. I call the first run of any pattern using inexpensive fabric my muslin. But stretch fabric is very forgiving, so even with a few fitting glitches, it's still wearable. This top is extremely comfortable to wear.
Since completing and giving the muslin a test wear, I decided that it was too short for my torso. I have added about three inches to the bottom. The bust area is too big for me too, so I'm going to be shaving a bit of the wrap around coverage to lessen the bust bulk. My problem is a thick waist and small breast, which equates to tree trunk body. Everything else fits okay.
If you're interested in the download, you can get it
HERE
for $7.44 (US).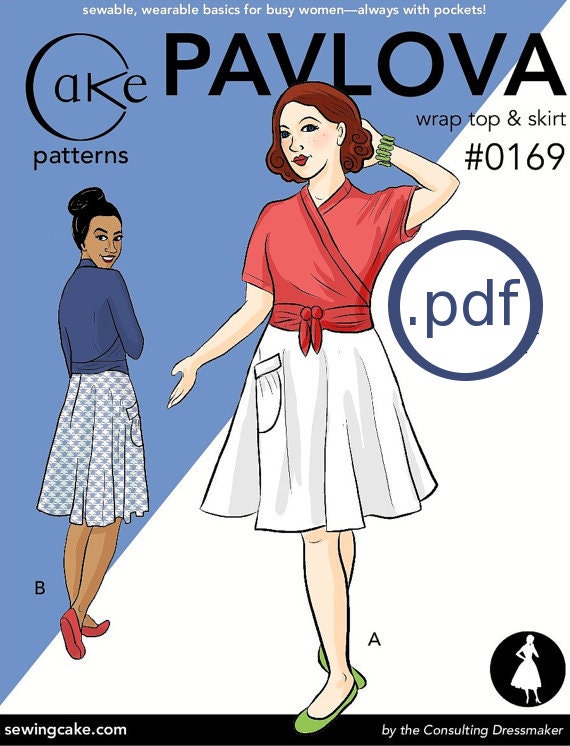 This might be the first muslin that has received so many compliments! (Personally, I think it's the colors.) I might have enough of the muslin fabric to make a second one. Happy sewing!