Simplicity Jiffy Vintage Pattern 1364
The next couple of projects are mainly pattern and fabric testing before I cut into my recently acquired Guipure lace AKA Venice lace. This Simplicity 1364 vintage-inspired blouse is the first of two patterns I hope to eventually use. After altering the tissue pattern, I cut straight into a Kaufman retro-inspired print I purchased several years back at Stonemountain & Daughter. This print also has quite a bit of stretch; a slightly forgiving option in case some areas are tight. As you can see, it turned out to be a wearable muslin using a woven. I am not so sure if this will work with the Guipure lace without some additional altering at the armscye.
I mostly associate lace with wedding wear, but I feel that there are really many possibilities. There was leather and lace in the 90s, lace and linen has always been a classic Spring pair, and now even with torn up boyfriend jeans.
A window shopping trip this past Spring was the inspiration for my sudden "party dress" themes. I found one RTW rack at a local shop filled with white Guipure lace blouse variations. They were simple lace pieces, no lining, zippers, or buttons. The blouse was meant to be worn over our underpinnings of choice...a clever idea for the consumer, and loads of production savings for the manufacturer.
My future polyester guipure lace blouse fabric, one in white, and other in ivory.
My pattern plans for my Guipure lace blouse is a boat neckline with trumpet sleeves. My sister Judy had an emerald green chiffon dress with exaggerated trumpet sleeves that I have always adored. She wore that dress on the airplane when she immigrated from Hong Kong. I had just turned four years old at the time, and my travel dress was a pink chiffon trimmed with none other than Guipure lace. How did I remember that?
After combing through the Simplicity pattern book last week, I could not find pattern that met my style needs. I suspect trumpet sleeves are not really in fashion. Simplicity 1364 has the boat neck, and the general body cut, but the sleeves are fitted. I could live without the trumpet sleeve, but a couple of inches of ease is necessary for fabric bulk. I am not sure about the zipper insert for Guipure lace. It might end up being more work than originally anticipated.
The back has a 15 inch zipper.
I started with view A and ended up with C. BTW, I think B and C are the same.
Link to the pattern HERE.
Simplicity 1364 was cumbersome. It might have been my fault since I decided to sew Hong Kong seams on the inside. I also used an interfacing meant for men's shirt collars for the facing, which ended up being very stiff and slightly bulky. Although I love the print, I found that the stretch in the fabric slightly distorted my zipper placement. The added Spandex also made the fabric thicker, and too warm for the Summer. The fitted sleeves were tight, and my arm felt claustrophobic, which is why I sans the sleeves entirely. Hey...it's a muslin anyway! But who wouldn't want their projects to turn out the first time?
After setting the first sleeve, I felt it was tight, and the pattern a bit busy.
My unused sleeves. :-(
If I attempt this blouse a second time, I would need to adjust the armhole out. Since I have already cut the pattern down in size, adjusting up at the arms is going to be more work than I would like. Simplicity patterns are going on sale again next week, so I'm picking up another one of these patterns, and starting all over. It is really a lot easier to start fresh than try to work around an already cut pattern. For $1.99, there's nothing to lose right? Right.
Here are samples of Guipure blouses that I like. Stay tuned for more testing news...and happy sewing!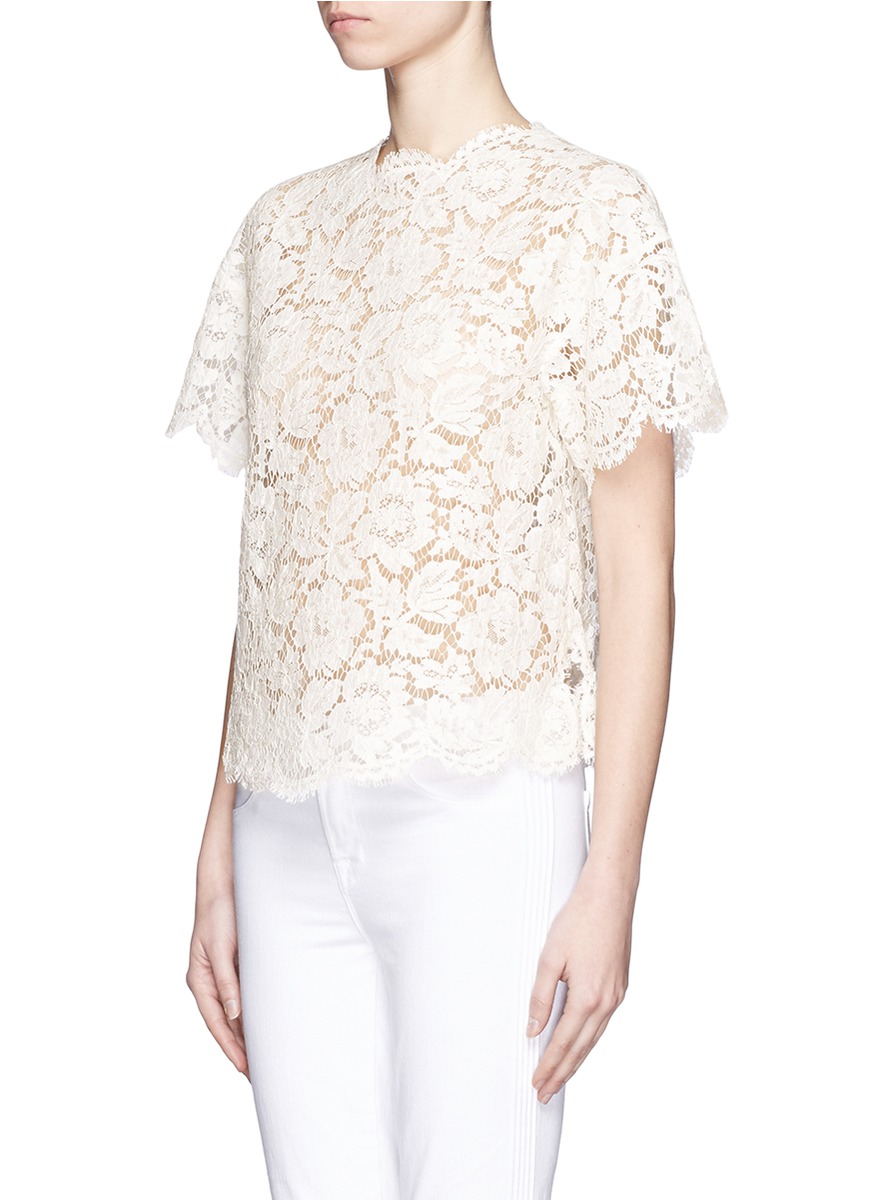 A wide short sleeve is a good option as well. But the lace
used in this cut is not really Guipure, but a whispier ribbed version.
(I just made up the word "whispier." It is not a typo.
Although I have my heart set on a boat neckline, this blouse
is pretty much right on the mark. I think I could live with a basic round neck too.
Stay tuned...a version of this dress is debuting on my next blog post!